Dream House Tile - tile installation services in Eglinton West Ontario
Best price and quality guaranteed. Free estimate and design consultation.
Call us today - +1 (647) 864-6715
If you want to beautify your home with a dependable tile installation service, consider Dream House Tile! Our company provides high-quality and reasonably priced tile installation services in Eglinton West, Ontario, Canada. Our team of skilled tile experts is ready to bring your vision to life, whether you're undertaking a small renovation or a large-scale project. Contact us today, and we'll handle all of your home renovation needs.
Services offered by Dream House Tile in Eglinton West
Our company offers a wide range of services, including:
Tile installation services for residential and commercial customers
Washroom tile installation and renovation
Kitchen backsplash tile installation
Fireplace and feature wall tiling
Floor and wall tile setting
Newest tile installation in Eglinton West

Why you should choose Dreamhousetile for the next project
Our team specializes in the construction industry, offering customers a high level of service and objective prices for all types of work. All our clients are satisfied with the final result, noting the following advantages of cooperation with Dreamhousetile in Eglinton West.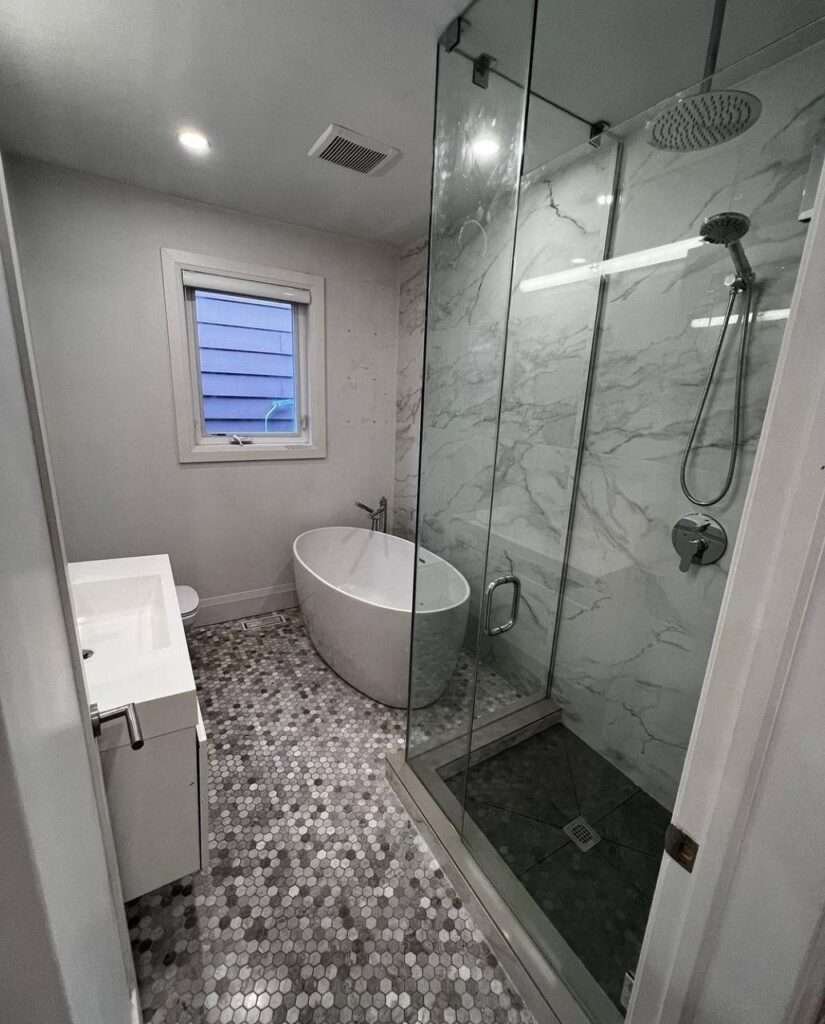 Tile installation services
Toronto and GTA
Best price and quality guaranteed
Free estimate and design
consultation
Our Services in Eglinton West
Laying tiles on your own is not an easy task, and therefore, many trust it to Dreamhousetile professionals in Eglinton West.
An important factor in this case is the strict observance of the technology of work. In total, the whole process can be divided into 7 stages. More specifically, laying ceramic tiles on the floor is carried out in the following sequence.
Thus, for the correct installation of tiles on the floor with your own hands, detailed instructions are simply necessary. And then we will consider in more detail each of the stages of work.

How much does it cost to install tiles in Eglinton West and GTA?

What are the 4 main factors that affect the price of a tile installation?
It's a common question from the homeowners. First of all, price for the tile installation depends on the job as there too many different factors that can increase the costas well as reduce it.
So, summing up the information written above, it is worth noting that every tile installation project is unique and requires a site visit for creating a proper quote. Our team will be more than happy to provide you a free estimate and design consultation anywhere in GTA.
Quality Tile Installation Services in Eglinton West ON
Selecting a tile installer
We understand that finding a dependable tile installer in Eglinton West can be challenging due to the many companies promoting their services. It can be difficult to distinguish which one will deliver outstanding results and leave your bathroom or kitchen looking elegant and beautiful, and which one will squander your time, money, and materials, leaving you unsatisfied and desiring to remove the tiles they've installed. However, you can trust Dream House Tile as we are one of the leading tile installation companies in Eglinton West, and we have concrete results to support our claim.
Advantages of choosing our tile installer service
Our company has been in the business for over 10 years, completing over 5,000 jobs in Eglinton West ON.
All our technicians are highly skilled and can carry out tile removal, installation, and renovation projects of any complexity.
Our team has all the necessary certifications, licenses, and insurance to provide services in Canada.
We have dozens of glowing reviews from past customers and a 5-star average on Google, so you can rest easy knowing that you will love the result of our work.
Our team can install any type of tile, including ceramic, porcelain, mosaic, granite, marble, glass, and slabs up to 10 feet.
Our specialists can also help you select a suitable design for your bathroom space and pick out high-quality tile that will suit your design ideas and budget.
We have a portfolio with photos of our past projects on our website, so you can see the quality of our work for yourself and even get some inspiration for your own home. You can also take a look at our Instagram account where we publish even more photos.
Our company offers competitive prices to keep our services affordable for as many homeowners as possible.
Dream House Tile works in Eglinton West, serving clients from Hamilton to Oshawa.
Every home renovation project requires a highly skilled and experienced team of tile installers. If you want to hire a team that will help you pick the right materials and can get the job done quickly in accordance with the highest quality standards, hire Dream House Tile. Call or email us today to discuss your project in detail and get a price estimate.
Dream House Tile - tile installation services in Eglinton West Ontario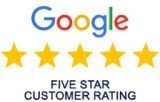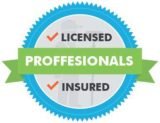 We Are Committed To Providing High-end Service To All Of Our Clients in Eglinton West
If you decide in favor of tiles, then you will have many options, for example: porcelain stoneware, ceramic, tile – these types of tiles can be regularly exposed to water when washing the floor without any problems. Most often, this tile is used in catering facilities, shops, latrines, kitchens. To whom to entrust the work of laying tiles, how to find a qualified specialist? There are many questions.
The Dreamhousetile offers you its services, the cost of installing tiles offered by us will pleasantly surprise you! High-quality performance of work, laying tiles in Eglinton West was carried out by our specialists hundreds of times in a variety of rooms using all types of tiles.
The  Dreamhousetile company offers services in laying of a tile from porcelain tile. Extensive experience in the field of finishing works allows us to achieve a reliable and durable result. Specialists take into account the characteristics of each material and carefully observe the prescribed technologies.
Only highly qualified specialists, professionals in their field, work in our staff. We carry out work of any level of complexity, strictly observing the quality standards of work and materials used. Individual approach to each project. A loyal pricing system will allow you to realize the most daring design ideas.

Frequently Asked Questions

Individual approach
It is not enough just to buy a tile and start laying it. Many factors can affect the quality and timing of work. Our specialists will evaluate the object, the required number of tiles and possible difficulties associated with its laying. We won't miss a single detail.
A wide range of services
We will not only help you with the selection of suitable materials, which will save you money and time, but we will accompany you throughout the project, your questions and suggestions will not go unanswered.
Prices
We calculate the cost of installation tiles based on the common interests of our company and the client, depending on the amount of work and the conditions in which our employees will work. Thanks to an individual approach, we will do our best to work out the most advantageous offer for both parties.
Saving time
Thanks to their experience, the team of specialists of our company will quickly and on time fulfill your order, regardless of the volume.
Dream House Tile is a team of professional tile installers with over 15 years of experience. We serve Toronto and GTA. We are genuinely pleased to offer the most professional and consistent service in the industry to our clients. Our workers have the pride of ownership, and that pride reflects in our work and provides our clients a great experience.
We specialize in interior tile installation for residential and commercial projects in Toronto and GTA. 
Dream House Tile delivers top-notch solutions based on dozens of years spent in the tile installation field.
 • Residential & Commercial Tile Installation ✔
 • Bathroom Tile Installation ✔
 • Wall & Floor Tile Installation ✔
 • Kitchen Backsplash ✔
 • Fireplace & Feature wall ✔
Experienced with Porcelain, Ceramic, Marble, Granite, Mosaics, Glass tiles, Slabs. We are able to install any tile sizes up to 10 ft slabs.          
 Why to choose us ? 
 • Excellent reputation 
 • Competitive pricing
 • Qualified, certified professionals

These guys were amazing! Very professional and on time. Even stayed until 9pm on Christmas Eve so they could finish. I absolutely love my bathroom! I have recommended them to everyone!
Our experience with this company was awesome. Andrew started our project in 3 days after the first phone call and finished the whole project in 5 days ( over 400 sqf of tiling). Can't ask for a better quality and price. Thank you very much.
Excellent workmanship and customer service. I would definitely recommend to anyone who's looking for an honest, professional, reliable tile installer. 10 out of 10
Super professionals. Bathroom looks amazing, thank you very much.
Andrew did an excellent job. He worked with me to decide what exactly I needed. The final outcome was perfect and at a very fair price. I would definitely recommend working with Dream House Tile!
Very professional, quality work, clean job site and great price. Will hire again!
Very happy with end result. Was able to get them in to tile in a reasonable time frame when ready. No gaps in service. Andrew was quick to respond when I contacted him. Pricing was fair for quality work.
Thank you guys for a good quality work. Its even better than I imagined. Will call you soon for my next project.