Your bathroom holds the unique role of being your first stop to kickstart your mornings and your haven for relaxation at day's end. By making a few adjustments, whether minor or major, you can swiftly transform your bathroom from dull to dazzling.
Research indicates that the average person spends about 182 hours annually in the bathroom, roughly equivalent to a week and a half each year! Keeping this in mind, revamping your bathroom provides an excellent opportunity to create a functional and beautiful space that complements the lifestyle of you and your loved ones.
Through these uncomplicated tips and techniques, we'll guide you in achieving the bathroom you've always envisioned, perfectly aligned with your design preferences.
Before anything else, determining the scope of your renovation will set the budget, timeline, and design theme for your remodel. Exploring inspiration from blogs, Pinterest boards, and even crafting your own moodboard can serve as valuable tools to gather ideas and establish your stylistic direction.
When contemplating a bathroom renovation, it's advisable to engage a professional who can manage the remodel and ensure its safety and well-thought-out design. If budget or time constraints are a concern, numerous options exist to rejuvenate your bathroom without necessitating an extensive demolition. If you're leaning towards minor changes that deliver maximum impact with minimal effort, why not explore options like replacing the vanity, updating fixtures, or even introducing new tile installations.
If you're aiming for a complete bathroom transformation, you have the opportunity to customize your floor and wall tiles, vanity, cabinets, and fixtures to align with your chosen design aesthetic. You can harmonize these elements of your renovation project to match both your budget and desired timeline.
A well-executed bathroom renovation can bring about various enhancements to your home and way of life, such as:
Enhancing your home's market value.
Lowering annual expenses associated with your home (thanks to energy-efficient technologies).
Elevating overall livability.
Maximizing the utilization of space.
Amplifying functionality.
How much does it cost to renovate a small bathroom?
The expense of a bathroom renovation varies based on several factors, including your budget, chosen materials, fixtures, bathroom tiles, and the contractors engaged for the project. Rest assured that, regardless of your budget, you can rejuvenate your bathroom through a few straightforward steps.
A plethora of ideas for modest bathroom remodeling exists, allowing you to opt for a subtle and uncomplicated approach or indulge in a lavish and intricate redesign. The possibilities are virtually limitless.
For those seeking to give their bathroom a fresh look without a significant investment, we recommend considering tile replacement. While it may constitute just one facet of your bathroom, you'll be pleasantly surprised by the transformative effect it can have on the overall ambiance of the space.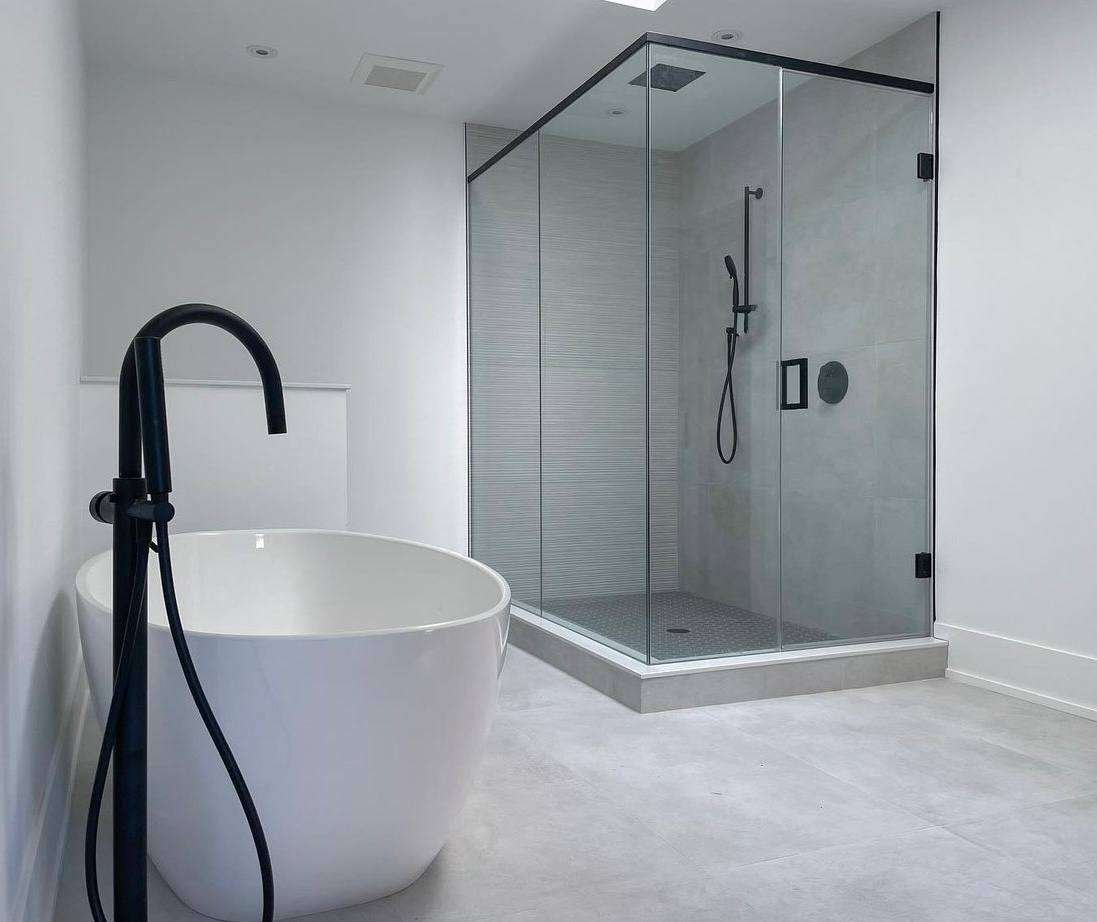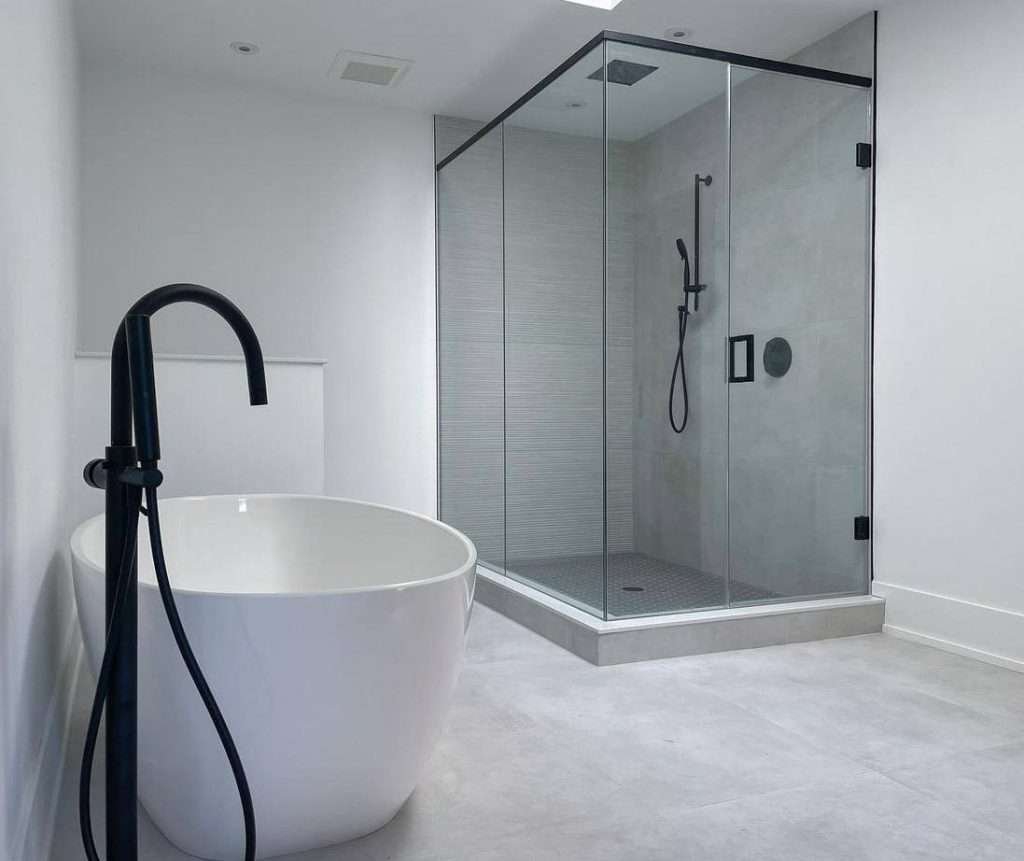 What to do when your bathroom is being renovated?
Being thoroughly prepared and organized can significantly streamline the renovation process. Having your fixtures and fittings ready in advance can help avoid any potential delays and ensure a smoother overall experience.
In the case of renovating the sole bathroom in your home, we recommend arranging for temporary accommodation while the work is underway. If this isn't feasible, consider utilizing facilities at your gym, workplace, a neighbor's place, or a family member's home until your new bathroom is ready.
Amidst these minor adjustments to your routine, it's essential to keep in mind that any inconveniences are temporary and that the remarkable transformation of your new bathroom will make all the effort well worthwhile!
What is the cheapest way to remodel a bathroom?
There exist numerous strategies for budget-friendly bathroom renovations. To begin, contemplate which aspects hold the greatest significance for you. This approach will guide you to decide where to invest more and where to economize.
For instance, if unwinding in a soothing evening bath is a cherished ritual, then it becomes a non-negotiable feature. Alternatively, if your current bathroom lacks storage space, it might be worthwhile to allocate a portion of your budget towards new cabinetry. Prioritize spending on elements that align with your preferences while being selective with those of lesser importance.
Similarly, if a particular tile design captures your heart, even if it comes at a higher cost than a more economical alternative, consider making it the focal point of the space and adjusting your budget for other aspects like the vanity, fixtures, and sink. While it may be tempting to cut costs by opting for lower-priced, similar-looking products, it's essential to recognize that in the realm of bathrooms, what seems like a saving today could potentially translate into a higher expense in the future. Investing in high-quality materials initially can help minimize the need for ongoing repairs, leading to long-term savings.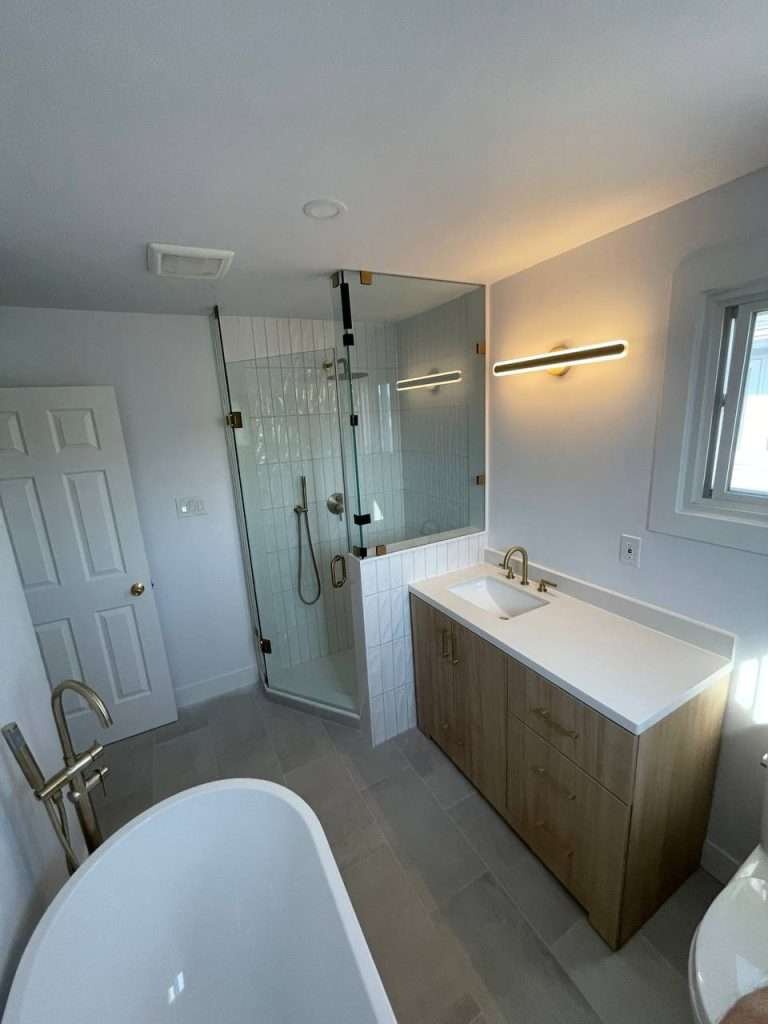 What is the most expensive part of a bathroom remodel?
In the context of a bathroom renovation, labor expenses tend to dominate the overall costs. However, enlisting the services of a skilled professional offers both reassurance and a guarantee of quality. A professional can provide valuable guidance on design concepts, project execution, budget allocation, and project timelines.
A comprehensive bathroom renovation typically encompasses the replacement of plumbing, tiles, shower, cabinetry, sink, and flooring. The considerable time and expertise required for a significant renovation can accumulate swiftly. According to a study, labor charges can constitute approximately 60% of your remodeling budget.
When considering a bathroom remodel that involves altering the layout, it's important to note that this will entail substantial plumbing work, thus contributing to your overall expenses. Opting to retain your existing layout can effectively streamline the process and help reduce costs.
How long does a bathroom renovation take?
Similar to the cost aspect, the duration of a renovation hinges on the size and scope of the project. Opting to pre-purchase the necessary materials can accelerate the process, allowing you to revel in your stunning new space sooner.
Undertaking an extensive bathroom renovation involving elements like a new bathtub, tiled flooring, walls, a steam shower, a double sink, and expansive cabinetry will naturally require more time compared to a straightforward, compact ensuite makeover.
The typical timeframe for a bathroom renovation falls within the range of 3 to 40 days, as per industry norms. Several variables come into play that can influence the duration, including lead times for materials, the availability of skilled professionals, and the complexity of the remodel itself.
It's important to note that this industry average estimate doesn't encompass the time spent on planning, obtaining quotes, and making design decisions for your bathroom. Therefore, if time is of the essence, it's advisable to commence your planning process sooner rather than later.
What colours make a small bathroom look bigger?
A fundamental design principle suggests that white and well-lit areas tend to create a sense of spaciousness compared to darker counterparts. Bearing this in mind, opt for whites or off-white shades in eggshell or satin finishes when working with smaller spaces. When surfaces and finishes have the ability to reflect light, this amplifies the effect of expanding dimensions, lending an illusion of a larger-than-life area.
Employing white tiles can ensure a timeless design, allowing room for the introduction of color through elements like cabinetry, towels, or curtains. Should you wish to infuse color into your bathroom tiles, consider leaning towards lighter, pastel hues.
Effectively enhancing the perception of space in a compact bathroom can be achieved through well-placed mirrors. By positioning a mirror to reflect a window or a broader expanse, you can create the illusion of an additional layer of space and an infusion of light.
Is remodelling a bathroom worth it?
A well-executed bathroom renovation has the potential to enhance your home's value by as much as 10%. Moreover, the satisfaction of relishing your personal space is truly invaluable!
In numerous instances, revitalizing your kitchen or bathroom proves to be a lucrative investment, capable of recouping the entire cost by elevating your home's overall value. While these two areas often incur higher renovation expenses, they stand as astute and rewarding long-term investments, whether you're contemplating selling your home or simply aiming to indulge in a haven of bathroom luxury for years to come.
Furthermore, it's worth contemplating the ways in which a bathroom remodel can enhance your daily routine. By introducing elements such as a double sink to promote bathroom harmony, along with exquisite fixtures and captivating new tiles, your bathroom renovation has the potential to uplift your spirits and enhance day-to-day functionality.
Can I renovate my bathroom myself?
While your bathroom remodeling concepts might appear straightforward, involving a professional is always a wise decision. Bathroom renovation encompasses plumbing, electrical work, and tiling – tasks that can be hazardous if attempted by an inexperienced individual. Plumbers and engineers undergo four years of training to refine their expertise, underscoring the importance of entrusting such work to skilled professionals.
Additionally, it's worth acknowledging that tradespeople often operate as a team, well-equipped to meet deadlines and objectives. This suggests that by enlisting professionals, your bathroom renovation is likely to be completed sooner.
While the actual renovation is best left to the experts, there are numerous ways you can actively engage in the process. For instance, you can unleash your creativity by crafting moodboards, assembling Pinterest collections, and compiling clippings from magazines to envision how you'll style your bathroom. Entrusting the renovation to certified tradespeople allows you to relax, confident that your project is in capable hands.
When remodelling a bathroom, what do you do first?
When embarking on a bathroom renovation, establishing a clear design style, layout, budget, and timeline becomes imperative. These four elements serve as the foundational pillars, as they eliminate guesswork and uncertainty.
Once these essential factors are determined, the subsequent step involves sourcing a capable and reliable contractor.
Following that, the process entails procuring the necessary fittings, fixtures, and tiles to ensure a timely commencement without any hitches. The contractor will then initiate the work by conducting an inspection, measuring the space, and providing their expert insights on the remodeling approach.
Subsequently, you can sit back and witness the transformation unfold! While the contractors diligently transform your bathroom, you might consider exploring options for towels, interior decor, and other methods of enhancing your bathroom through furnishings and accessories.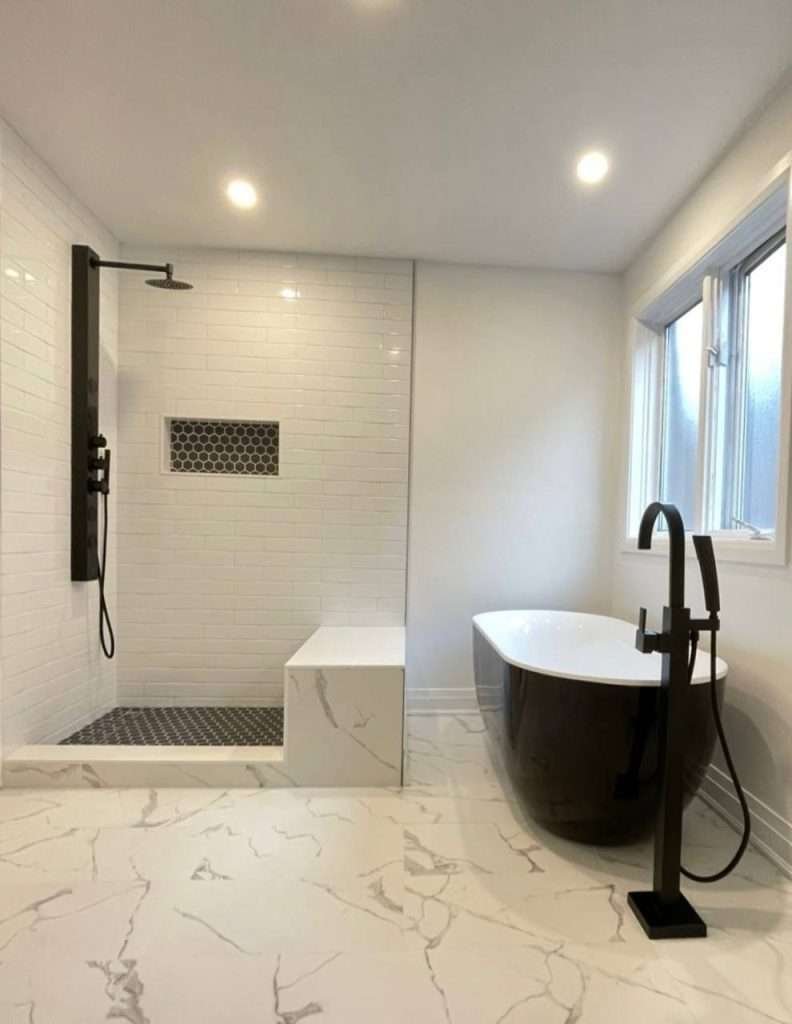 Summary
In the pursuit of enhancing your home's value and elevating both the functionality and visual allure of your bathroom, a remodel stands as a wise investment. As widely acknowledged, kitchens and bathrooms are pivotal in shaping home sales, making a contemporary and revitalized bathroom a definite asset.
The anticipation for the remodeling process is undoubtedly rewarding, and with a blend of meticulous planning, proficient contractors, and a touch of patience, your envisioned dream can swiftly transform into reality. Craft your perfect forever home with the guidance of Dream House Tile.
Should you find yourself seeking inspiration, our bathroom ideas photo gallery offers a wealth of creative concepts.
For any queries pertaining to bathroom renovation ideas, feel free to reach out to our team of bathroom design experts here at Dream House Tile. We're here to assist you.